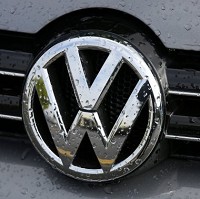 Volkswagen drivers in Britain who were affected by the emissions scandal may be close to seeing the problem resolved, according to the firm itself.
The German car manufacturing giant says it has discovered a way around the technical problems in the majority of affected cars.
Matthias Mueller, who was recently appointed VW's new chief executive in the wake of the emissions scandal, has welcomed the news.
Addressing company directors at VW's Wolfsburg HQ in Germany, he said it now makes the recall operation financially, technically and logistically viable.
The car chief says that brand "confidence" and "credibility" is more important than operating results and sales figures.
It was announced last month that VW will recall 8.5 million cars in Europe.
The manufacturer owned up to installing test-rigging software in 11 million of its diesel-powered cars.
The confession has sparked criminal and regulatory inquiries in the US, Germany and many other countries.
In addition, VW has since admitted that it downplayed CO2 emissions on 800,000 cars, including petrol ones.
Complex repair processes are needed for the affected 1.6-litre models, whereas two-litre diesel-powered cars require just a straightforward software upgrade.
VW, which also owns Skoda, Audi and Seat, will give its recall proposals to the relevant German authorities by the end of this month, Mr Mueller pledged.
The internal investigation into the scandal will take longer, the chief executive admitted.
Mr Mueller promised an interim report in the middle of next month, but says the "very complex" inquiry will not be finished for several months.
China sales have boosted VW's worldwide sales, with the firm's largest market seeing deliveries rise to 233,500 in October - a hike of 1.8%.
It is a different story across western Europe, however, with sales dropping 1.3% compared to the same time 12 months earlier. Italy, Spain and Germany, in particular, have seen sales slump.
Copyright Press Association 2015. Motoring News articles do not reflect the RAC's views unless clearly stated.