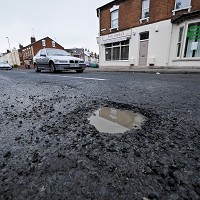 Local authorities are paying out more to deal with damage caused by potholes than they would if they just repaired them, according to shadow transport minister Jim Fitzpatrick.
Mr Fitzpatrick said this calculation was made by the National Audit Office, telling Road Safety Minister Stephen Hammond road repairs would be cheaper than the cost of damage and injuries due to potholes resulting from the weather or cuts.
Awareness of the issue should remind motorists to make certain their vehicles are covered by car insurance in case of damage.
In the Commons, the shadow minister asked Mr Hammond if he had talked with his Treasury colleagues about trying for extra funds to use "these infrastructure projects" to get the economy moving.
He was supported by Opposition MPs shouting "Tory potholes" and Labour MP for Central Ayrshire Brian Donohoe who reminded Mr Hammond that "a stitch in time saves nine".
Mr Hammond replied that more than £3 billion was being given by the Government to maintenance, £200m extra was given in March 2011 for severe weather and there was additional funding provided at the last Autumn Statement.
He added that the potholes review contained conditions which councils should follow to ensure prevention of potholes, rather than adopting a 'band aid solution.'
Copyright Press Association 2013