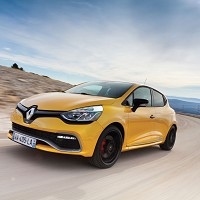 The 2013 Renaultsport Clio is a lighter, more exciting car as new specification details announced on Friday reveal.
To start with, the car can achieve a shift time quicker than 150 milliseconds when the driver changes the 'R.S. Drive' dynamics mapping system to 'Race' mode. And the combination of a launch control and a distinctive suspension technology make the car a genuine driving machine.
At the same time, the 2013 Clio offers the popular easy-to-drive manoeuvrability that its predecessors possess. Turbocharged torque that peaks as early as 1,750rpm helps Clio's gentle engine mapping and keeps working up to practically optimum power.
A breakdown of the engine's interior strength shows that when peak torque begins backing off at 5,500rpm, optimum power rushes in at 500rpm later, which gives the driver continual and powerful accelerating power when needed.
Officially, the 2013 Clio goes from 0 to 62mph in 6.7 seconds, which is a full second quicker than the official data for Toyota's GT86.
Drivers will be offered driving modes, beginning with Normal, where steering, acceleration, suspension, engine responsiveness and gear changes are in a mode for a comfortable and easy driving style.
The new 1.6 turbo engine is all about efficiency, boasting a rate of 44.8mpg and 144g/km, which is a huge advance on its earlier version.
The standard specifications are noteworthy. The car's sports seats offer even greater support and any understeer is combatted by Renaultsport differential. Still to be confirmed are the prices, though they are expected to be announced on February 28.
Copyright Press Association 2013