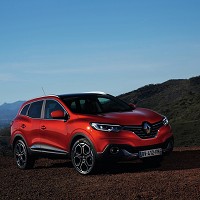 British motorists will be able to get behind the wheel of Renault's latest rival to Nissan's Qashqai from this autumn.
The French car giant launched its new Kadjar on Tuesday, February 3.
The latest crossover SUV will go on public display for the first time next month among Geneva Motor Show's myriad motoring delights.
UK drivers should be able to own one from September, although it may go on sale in some other countries from the summer.
The Kadjar is being described as the Renault Captur's big brother. Fuel emissions and economy share centre stage, with a high motoring position for the new, 4.45 metre-long compact SUV.
Super-efficient engines are aimed at giving best-of-class CO2 emissions, while Renault also promises the most up-to-date connectivity levels.
The diesel engine/two-wheel drive combo is likely to appeal most to UK motorists. But four-wheel drive/advanced petrol alternatives are also set to be offered.
The UK-bound Kadjars will be built in Spain.
Copyright Press Association 2015