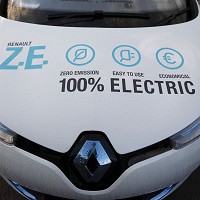 The electric-powered Renault Zoe has been awarded a five-star safety rating by vehicle testing body Euro NCAP.
An overall score of 82%, including the maximum possible rating for pedestrian safety, means it is one of the top performers in its section of the market.
The Zoe is an electric car but it features a warning sound to make its approach known to anyone nearby.
Organisations for blind and visually-impaired people were consulted in the design of the technology.
Renault also points to the car's Fix4sure system and its responsive chassis as other key features boosting its safety.
The car maker is keen to point out that its safety rating is very much comparable with that of a traditional combustion-engine car, confirming its mainstream status on the market.
Renault will also be pleased with the rating given that it comes only weeks after NCAP introduced a more strict method of assessment.
From a consumer's point of view, vehicle safety can of course provide peace of mind and can also in the longer term potentially be beneficial in terms of car insurance premiums.
Copyright © Press Association 2013