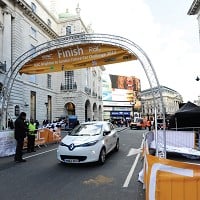 Renault's new all-electric supermini, the Zoe, has beaten a host of competitors to win the RAC Future Car Challenge.
The Zoe, which has a 130-mile range under optimal conditions, navigated a 63-mile route using less energy than any of the other cars in the challenge, which featured cars never seen before on UK roads and various celebrity drivers.
The Zoe's 43kW AC system means it can be charged to 80% of its battery capacity in just half an hour as well and the chairman of the RAC, Tom Purves, thinks the event and cars like the Zoe have raised the profile of the future of motoring.
"This has been an excellent event and I want to thank all the drivers, entrants and sponsors who put so much effort into making it a success," he said at the presentation ceremony in Regent Street.
"It attracted a huge crowd along at Regent Street and has once again brought the future of motoring to the attention of the public."
The Zoe, which is manufactured to be as light as possible to maximise its energy efficiency, won the awards for Best Pure Electric Vehicle and Most Energy-Efficient Small Car as well as taking the overall victory.
British Gas, which has recently teamed up with a host of major manufacturers to supply domestic electric vehicle (EV) charging solutions for roughly 70% of the UK market, sponsored some of the awards categories.
Copyright Press Association 2012