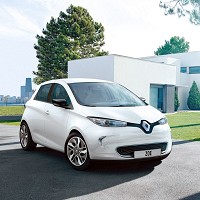 Renault is planning to use the quietness of electric cars as a major selling point when it introduces the Zoe in the UK next year.
The French car-maker already has three electric models on the market - the Fluence saloon, a Kangoo van and the scooter-like Twizy - but so far sales have failed to meet expectations.
Up to now the main selling point has been the cheaper operating costs, for expenses such ascar insurance and fuel, but with the Zoe, Renault is looking to amend the sales message, which it knows is crucial this time around.
"When we launch in the UK the main message is going to be one of silence," said global sales and marketing director Stephen Norman.
Mr Norman has attributed the slower-than-expected take-up of electric vehicles to the time it is taking to roll out supporting infrastructure.
"We're not pleased about the level of sales, but we are the European market leaders and, with Nissan, world leaders," he said.
"The principal reason the market is not expanding more quickly is that the infrastructure is arriving more slowly than we thought."
He added: "We also have work to do on our marketing communications. But what I don't see in any market is a resistance to electric vehicles on a cultural level."
Copyright Press Association 2012