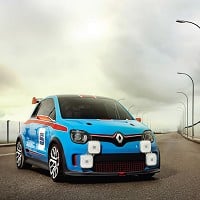 Renault has produced a Twin'Run car concept involving a 316bhp engine and boasting a one-off glass-polyester composite Twingo-esque bodyshell over a tubular steel racing chassis.
Powering the vehicle is a mid-rear mounted 3.5-litre V6 which comes from a Megane Trophy racing car. The rear-wheel driver Twin'Run goes from 0-62mph in 4.5 seconds and its top speed is 155mph.
This performance is possible thanks to a six-speed sequential gearbox, a 950kg weight and a power-to-weight ratio of 333bhp per tonne.
Maximum traction is ensured while coming out of corners thanks to a limited-slip differential, while driveability should be assisted by a 57% rearward weight balance.
Car enthusiasts seeing a new vehicle such as the Twin'Run unveiled may bear in mind the necessities of having the best car insurance deal that they can afford on their own models.
Twin'Run was the "true heir" of the R5 Turbo and the Clio V6 racing cars, said Axel Breun, head of concept car design, at the unveiling of the new car.
However, the aim of the Twin'Run is to hint at the styling of its replacement for the Twingo, and Renault will not build a production version of the new concept.
Copyright Press Association 2013