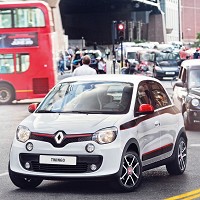 Renault has decided against offering an entry-level city car like some of its biggest rival manufacturers, preferring instead to target premium sales.
The French car firm wants its latest Twingo to challenge the Fiat 500 as the most popular premium city car and has set its pricing from £9,495.
Hyundai, PSA Peugeot Citroen, Toyota and the Volkswagen Group all offer 'budget' city cars and some of them are available new for under £8,000.
The Twingo, with its engine in the back and rear-wheel drive system, uses the same basic platform as the new Smart car.
Most models in the range will be powered by a 1.0-litre non-turbo engine except for the most expensive version, the Dynamique Energy TCe 90 - which costs £11,695 and will have a 0.9-litre turbo engine complete with stop-start technology.
The 1.0-litre engine will only come with a stop-start system in the Dynamique SCe 70, costing £10,995.
There will be no road tax to pay for stop-start models, while owners of the other engines will pay £20 a year.
Buyers wanting to personalise their cars can buy option packs starting from £100, but for an extra £850 those buying the Dynamique Energy TCe 90 can add the Sport Pack, featuring 18-in alloys, red and black interior with some leather upholstery, aluminium pedals and further colour options both inside and out.
The Twingo, set to hit Renault forecourts next month, is in a higher car insurance group than many other city cars, ranging from group two for the entry-level models to group eight for the Dynamique Energy TCe 90 version.
Copyright Press Association 2014