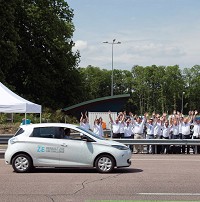 A Renault supermini has set a new world record for the longest distance covered in 24 hours by a production electric car.
The ZOE - a 100% electric supermini - completed 363 laps or a total of 1,005 miles (1,618 km) at the Aubevoye speed ring in Normandy, France.
In beating the previous record of 795 miles (1,280 km), 15 drivers took turns driving and charging the vehicle as necessary - with the car's innovative charger helping it to make history.
The drivers were able to use the ZOE's Chameleon charger to fast-charge the car at 43 kW, regaining 80% of battery capacity in under 30 minutes, with 18 charges being sufficient over the 24-hour period.
UK motorists putting theirEuropean breakdown cover to good use with a visit to France may be interested to keep an eye out for further developments from Renault as the car maker looks to continue its work in the development of electric cars.
Copyright Press Association 2012