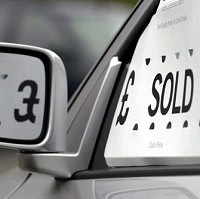 New plate March car registrations are expected to break the 400,000 barrier for the first time in five years.
According to Glass's Guide, the market appears to be on course to beat the 372,835 units registered last month, a potential rise of 7% ahead of the official breakdown of the Society of Motor Manufacturers and Traders (SMMT) registration figures.
March is a crucial sales period for dealers and carmakers , with registrations for the month accounting for 20% of the year's total.
Richard Parkin, Glass's director of valuations and analysis, said: "Anecdotal evidence suggests that it is gearing up to be yet another good March which, if the trend were to continue to form, would result in registrations breaking the 400,000 barrier."
According to the SMMT registration figures, new car registrations have grown for 12 consecutive months, with retail demand powering the market on the back of strong manufacturer backed deals.
Copyright Press Association 2013