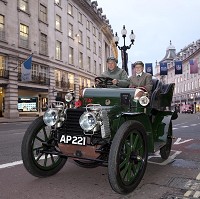 Motoring enthusiasts are in for a treat as the largest free-to-view driving show in the UK returns for another instalment.
The Regent Street Motor Show once again takes place on London's iconic shopping street, showcasing 125 years of motoring history from pre-1905 veteran cars right through to the supercars of today.
Saturday 31 October is the all-important date, with the festivities kicking into gear at 10.30am and engines turned off at 4pm.
Hundreds of thousands of petrolheads come from far and wide to get their fix of motors past, present and future - and more of the same is expected this year, as a glittering selection of cars take over the street.
In 2014, 17% of visitors came from overseas while just over half came from the Greater London area.
The prestigious EFG International Concours d'Elegance is always a star attraction, featuring the earliest models to roam the roads, as are the various motoring clubs that line London's "Mile of Style".
Today's biggest and best manufacturers will also be showing off their latest offerings and providing a glimpse into future technologies that could change the driving experience forever. Everything from autonomous vehicles, which are closer to reality than ever before, to electric cars that rival the performance of their fuel-powered counterparts.
Models like the Renault Twizy and BMW i3 have previously captured the imagination of the crowds, with drivers keen to run the rule over a new generation of cars that are not subject to the Congestion Charge in Central London.
A host of exciting displays and exhibits will be announced in the coming weeks and months, so watch this space.
Copyright Press Association 2015