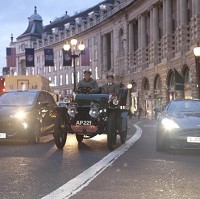 Motoring fans can look forward to plenty of things to enjoy at Britain's largest free-to-view car show this weekend.
Final preparations are being made for the Regent Street Motor Show on Saturday October 31.
Cars from across the ages - from the combustion engine's very beginnings to the latest eco-cars - will be on display.
Attendees can pretend they are behind the wheel of the real thing by getting to grips with the fair's driving simulator.
But the show's highlight is expected to be a stunning display of 100 veteran vehicles for the EFG International Concours d'Elegance.
This is a spectacular taster for the following morning's Bonhams-sponsored London to Brighton Veteran Car Run.
Spectators can see these vintage gems at close quarters on the eve of the iconic 60-mile Hyde Park to Brighton trek.
At the other end of the time scale, driving enthusiasts will be treated to a whole host of state-of-the-art developments in the motor manufacturing industry.
Spectators can get a gentle nudge towards the growing eco-friendly car revolution by seeing in the flesh the latest zero-emission hydrogen and electric models as well as latest plug-in hybrids.
The new Mitsubishi Outlander PHEV gets its first British public outing. Other cars from this expanding sector include the new-gen Toyota Prius Plug-in plus the fast-selling Nissan LEAF .
The sleek BMW i8 sports car and the Renault ZOE are also being showcased.
The head-turning Aston Martin DB10 from the new Bond movie Spectre will also be on show, along with a range of other Aston motors.
Racing cars and interactive activities will add to the eclectic mix. Bike fans are not forgotten either with a display of stunt motorcycling, while the West End Kids are providing musical entertainment.
Copyright Press Association 2015
ttp://www.rac.co.uk/buying-a-car/car-reviews/mitsubishi/outlander (Mitsubishi Outlander)