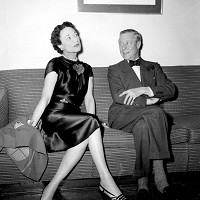 A Cadillac built especially for royalty could be set to sell for £500,000.
The jet black American classic was made in 1941 for the Duke of Windsor - the former King Edward VIII, who abdicated in 1936 in order to marry US socialite Wallis Simpson.
One of the world's most famous Caddies, it was one of the world's first cars to have electric windows. As befits its status as a symbol of the Duke and Duchess' jet-setting lifestyle, it comes with cigar lighters, woollen carpets, a smart walnut finish and jewellery compartments.
The car - nicknamed The Duchess - disappeared from public view when the couple sold it in 1952; it only reappeared in 2009 when its new owner decided to restore it. The vehicle will now go under the hammer at RM Auctions' New York sale next month.
The relationship between the Duke and Duchess rocked the British establishment in the pre-war years, and remains one of modern history's most fascinating love stories.
The car is expected to sell for between £360,000 and £500,000 when it goes under the hammer in November.
Copyright Press Association 2013