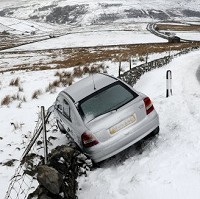 Thousands of rural motorists will be entitled to cheaper fuel later this spring.
The "landmark" rebate scheme - which will see 5p slashed off each litre - applies to around 125,000 drivers in 17 postcodes in the remotest parts of England and Scotland.
They will be able to apply for rebates from next month with the savings coming into effect on May 31.
Isolated communities carry the burden of the costliest diesel and petrol prices, due to increased delivery prices. Never before have European Union decision-makers approved petrol refunds for motorists residing on the mainland of the UK.
Drivers in the English postcodes EX35 (Devon), LA17 (Cumbria), NE48 (Northumberland) and the North Yorkshire town of Hawes will all benefit.
It will also be applicable to 11 Scottish Highland postcodes, as well as two in Bute and Argyll (PA80 and PA38). Scottish and Scilly islanders are already entitled to the discount scheme.
Simon Williams, fuel spokesman for the RAC, said: "The confirmation of the extension of the Rural Fuel Rebate Scheme to mainland rural communities is a landmark moment which will be fully appreciated by both residents and businesses alike.
"People living and working in rural communities by their nature rely most heavily on their vehicles, so it's right that they should not have to pay significantly more for fuel."
Mr Williams continued: "Even though we are currently in a period of much lower petrol and diesel prices thanks to low oil prices, these rural communities will still be paying a lot more per litre than the rest of the country due to higher delivery costs.
"Filling stations provide a crucial public service in more remote areas, so this extension should make a very positive difference to household budgets as well as business accounts in these 17 postcodes."
Copyright Press Association 2015