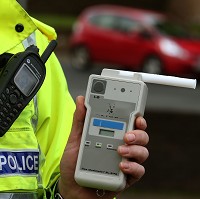 Lowering the drink-drive limit in England and Wales could have saved 25 lives in Britain this year, new research suggests.
While Scotland reduced the limit to 50mg alcohol per 100ml of blood in December 2014, bringing it in line with other European countries like France, Germany and Spain, England and Wales chose to keep the limit at 80mg.
A study commissioned by the RAC Foundation and the Parliamentary Advisory Council for Transport Safety (Pacts) found there would have been 25 fewer deaths nationwide if England and Wales had followed suit.
It concluded a reduction in the legal limit would have also prevented 95 people being seriously injured.
"It would be a poor argument to suggest we should cut the drink-drive limit just because everyone else has done it. But this report makes the case on robust data and sound analysis," says Steve Gooding, RAC Foundation director.
"Policy in this area hasn't moved for half a century but in the face of this evidence it increasingly falls on opponents of a limit reduction to defend the status quo, rather than asking those who support a cut to keep making their case."
Around 240 people were killed in an accident involving a driver over the alcohol limit in Britain from 2010 to 2013, while 1,200 people were seriously injured.
Professor Richard Allsop, who carried out the research, believes Scotland's decision to lower the drink-drive limit from 80mg to 50mg alcohol per 100ml of blood means a small proportion of the 25 lives are already being saved.
The drink-drive limit in England and Wales has remained at 80mg since 1967.
Copyright Press Association 2015. Motoring News articles do not reflect the RAC's views unless clearly stated.