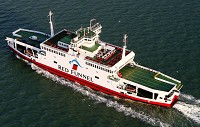 Passengers and transport companies are set to be kept up-to-date on sailing times via Twitter after a ferry service was rigged up with new technology.
Red Funnel, which runs services between Southampton and the Isle of Wight, has teamed up with IBM to provide minute-by-minute updates on the location of its boats.
The technology will provide transport companies with information of unforeseen delays caused by weather, technical problems or medical emergencies.
The technology, developed by Dr Andy Stanford-Clark, uses on-board sensors linked to data analysis computers. Once processed, the information is sent to customers' mobile phones as well as the Red Funnel website.
Red Funnel sales and marketing director Jonathan Green said the technology will allow passengers to "better plan their journeys and avoid unnecessary delays".
He added that the company has plans to further improve the service. Mr Green said: "In the future we expect to be able to further develop the system to provide real-time information on how the service is operating against the schedule, and also be able to (contact) SMS customers booked on the service to advise of any delay."
Copyright © Press Association 2009