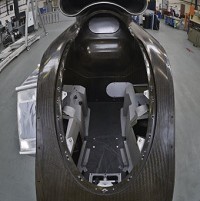 The new, supersonic Bloodhound has gone on public show.
London's Canary Wharf is the destination where an estimated 8,000-strong crowd will see the most souped-up racing car on the planet.
The record-chasing, UK-built Bloodhound has been made to try and break the existing 763mph land speed record, set 18 years ago in Nevada's Black Rock Desert.
Next up on the agenda after Thursday's public unveiling is next year's 200mph trial at Cornwall's Newquay Aerohub. It will then be transported to the South African desert where it will undergo high-speed practice runs.
To gauge just how fast the pencil-shaped, 7.5-tonne machine is, it takes only 3.6 seconds to travel a mile.
The racer gets its oomph from three separate power plants. A V8 engine from Jaguar fuels the vehicle's rocket oxidiser pumping machine. Hybrid rockets, courtesy of Nammo, add to the revs. An EJ200 jet from Rolls-Royce, as used in the Eurofighter Typhoon completes the line-up.
Combined, this impressive three-pronged power plant generates thrust horsepower amounting to 135,000 units. This equates to 180 Grand Prix Formula 1 racers.
Its diameter is 6ft and its length is 44ft.
Over 350 universities and firms have climbed aboard the Avonmouth-based project near Bristol under the supervision of project director Richard Noble.
Noble is teaming-up again with record-holding Thrust SSC team-mate Andy Green for this latest attempt. Green, now 52, and Noble were driver and project director respectively for the successful Thrust SSC run.
Noble also holds the distinction of setting a new land speed mark 32 years ago in the Thrust 2 - as a driver.
Copyright Press Association 2015