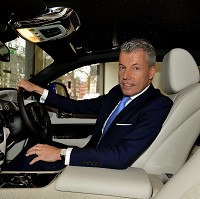 Rolls-Royce has announced its strongest ever annual sales figures.
The luxury car maker shifted 4,063 vehicles in 2014, which is the highest number the 111-year-old company has ever sold.
It was up 12% on 2013's figures and marked five consecutive years of rising sales.
The Sussex-based company has seen its sales increase five-fold between 2009 and 2014. While domestic sales rose by 13%, its greatest successes in 2014 came overseas.
It notched a Europe-wide sales hike of 40%; recorded a 30% rise in the USA and saw an increase of 20% in the Middle East.
But this paled into comparison with Australia, where its sales surged by 75% and Japan where there was a 60% increase. Rolls' most successful dealership in terms of sales was in Abu Dhabi in the Middle East.
One of the driving forces behind Rolls' record sales was strong orders for its Ghost Series II and the Wraith, which both enjoyed their first full years of sales.
Copyright Press Association 2015