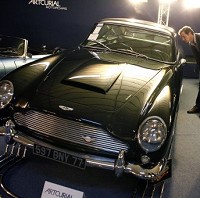 An iconic Aston Martin has sold for more than £1.5 million at auction.
The 1966-crafted DB5 Convertible helped swell takings to a record £10 million-plus at Saturday's Bonhams' landmark sale of the marque brand.
Over 50 motors and 170 automobile lots went under the hammer at the Buckinghamshire-based event, which was the biggest in its 16-year history. Aston Martin's Newport Pagnell base saw two machines fetch over the £1.5 million mark.
The Vantage-specified DB5 topped the sales charts at £1,524,700.
And the late actor Sir Peter Ustinov's DB4 Series IV's charms were too much to resist for one buyer, who parted with £1,513,500 to land the 1962-built Vantage Convertible.
The pair, along with an array of left-hand drive models - representing a quarter of the car lots - helped to boost takings to £10,280,275.
The kudos of buying a car from the Aston Martin stable seemingly remains as strong as ever. Its connotations with the James Bond film franchise attracts fans from all around the world.
Saturday's sale saw a DB5 4.2-Litre Sports Saloon (1964), dubbed the most famous from the 007 range, sold for £595,100.
A DB4 Series 1 Sports Saloon (1960) fetched £494,300, while a DB6 Mark 1 Volante attracted a winning bid of £561,500 inclusive.
Meanwhile, a seemingly unfashionable Virage Coupe (1990) went for £74,300.
Bonhams prides itself on being the pioneers behind single-marque sales.
Tim Schofield, its motor cars head for the UK, called it "another great sale", beating every previous such auction in its history. Mr Schofield said that interest was "more cosmopolitan" than in earlier days.
Aston Martin Works' commercial director Paul Spires called the weekend's auction "hugely memorable". He said there had been "strong sales" and "keen bidding" with buyers across the globe snapping up the sporty models.
Mr Spires said the changeable weather did not deter the 2,000-strong attendees creating the "superbly sociable" atmosphere which percolated throughout the event, turning it into a "garden party" ambience.
The sale is one of the many occasions which is helping Aston Martin to celebrate its 60th birthday.
Copyright Press Association 2015