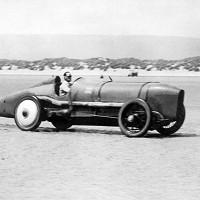 History loving motorists are being asked to support a £30,000 fund-raising campaign to repair Sir Malcolm Campbell's 3-time land speed record-breaking Sunbeam 350hp.
The iconic 95-year-old speed machine set a 150mph mark on Wales's Pendine Sands during its third record run, nine decades ago.
Appeal organiser the National Motor Museum says its mechanics need to construct a new gearbox.
Doug Hill, chief engineer at the Beaulieu-based museum, says a weak gearbox has always dogged the car. The 1920 gearbox is no longer around, so a template cannot be followed, he says.
Mr Hill adds that a successful fundraising campaign could restore the Sunbeam to its former glories and somewhere close its original speed.
The vehicle's first gearbox was taken out and lost after the Second World War. Engineers replaced it with an old Albion 35hp van engine, but this was only designed to take around 10% of the oomph the Sunbeam produced.
The replacement engine also seriously compromised the Sunbeam's ability to stop smoothly, being somewhat incompatible with the car's modified braking system.
If successful, Mr Hill hopes the campaign will see a fresh gearbox as the latest step in a long-term scheme to restore the record-breaker to its original specification.
This would entail new upholstery, seat, back wheel spats, nose cone and a couple of exhaust pipes.
Sir Malcolm renamed the Sunbeam "Blue Bird". The machine broke the land speed record three times, the first with Kenelm Lee Guinness at the controls at the Surrey-based Brooklands track in 1922.
Campbell then set new marks in 1924 and 1925 with 146.16mph and 150.76mph respectively, having bought the car and redesigned its colour scheme.
The machine has enjoyed various owners since Sir Malcolm sold it. Beaulieu-based Edward, Lord Montagu acquired it in an atrocious condition in 1957 but had it brought back to working order.
It was given its last proper outing during the summer of 1962 at Goodwood in Chichester, West Sussex.
Copyright Press Association 2015