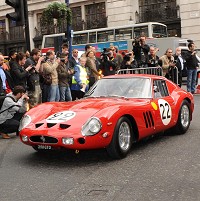 A 1963 Ferrari 250 GTO racer has become the most expensive car in the world, after being sold to an unknown buyer for a cool $52 million (£32m), according to Bloomberg.
The legendary car cost just £6,000 when new, and the 533,233.33% increase in value is down to the fact that just 36 models were ever produced, between 1962 and 1964. Not only does this make it the most sought-after car in the world, it will also command a heftycar insurance premium.
A car collector in Connecticut called Paul Pappalardo bought the record-breaking vehicle in 1974, and has been pleased to find the vintage sports car even went up in value by a remarkable 49% in the past year alone.
An apple green model owned by Stirling Moss sold for $35 million in 2012.
John Collins, chairman of classic Ferrari specialist Talacrest, explained the unique value of Ferraris by describing them as the "Picassos of the car world". He continued: "And the 250 GTO is the golden car of its generation, show me a man who wouldn't want one.
'They are bought by people who have a love of cars and see them as an investment."
The model sold by Mr Pappalardo was in fine condition despite its age and having seen plenty of action. It was driven to victory by Jean Guichet at the 1963 Tour de France road race.
Copyright Press Association 2013