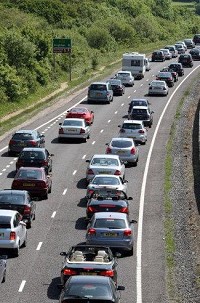 Traffic congestion on roads has reduced for the first time in at least two decades as a result of the recession, according to a survey.
The study, carried out by AA and road traffic company Trafficmaster, found that congestion on motorways and trunk roads had reduced by 31% in the last two years.
The findings of the report are based on analysis of data over five years and from an AA/Populus poll of 75,000 drivers.
According to the report, the 23% of commuters who lost jobs in the last year were responsible for a 15% drop during the morning rush-hour on weekdays.
To save on commuting costs, 20% of those surveyed said that they worked from home more regularly, 14% used public transport, while 12% shared cars.
However, 67% said they would double the distance of travel if they could keep their jobs.
Georgina Read, of Trafficmaster, said: "We've been collecting and analysing congestion data for the past 20 years, with all previous years up to 2007 showing the congestion problem growing.
"However, post-credit crunch, the trend has been well and truly broken and we've now witnessed two consecutive years of dramatically falling congestion levels."
The only exception are Fridays when traffic has risen because more people holiday in the UK and choose weekends breaks.
Copyright © Press Association 2009