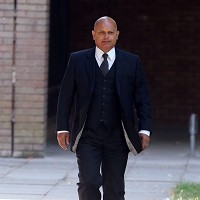 Ray Wilkins allegedly slurred his words, was unable to stand up and was forced to lean on his Jaguar car for support when he was pulled over last year, a court has heard.
The former England and Chelsea footballer is currently on trial over a drink-driving charge, which revealed him to be three times over the legal limit.
He was arrested on 7 May 2012 after an officer on patrol spotted his car "weaving" down the road moments after it allegedly "lurched" forward and hit a traffic island near his home in Cobham, Surrey, at 1.45am.
The 56-year-old was later taken into custody where he apparently struggled to give a sample of his breath and unleashed a foul-mouth tirade, branding police procedures a "f****** joke".
Tests at the station revealed he had 104 and 102 microgrammes of alcohol in 100 millilitres of breath - almost three times the legal limit of 35 microgrammes - while a roadside reading recorded 109 microgrammes in 100 millilitres of breath.
Motorists found guilty of drink-driving face the prospect of a fine, a driving ban and imprisonment - all of which can bump up car insurance premiums in the future.
Wilkins, who is standing trial at North Surrey Magistrates' Court in Staines-upon-Thames, denies drink-driving.
Copyright Press Association 2013