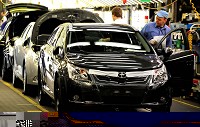 The drop in car production last month was the smallest witnessed this year, it has been announced.
In June 2009, the UK produced 91,718 cars - a drop of 30.2% in the same month last year, the Society of Motor Manufacturers and Traders said. This is an improvement on recent months - with a drop of 43.0% in May and 55.3% in April. Also, commercial vehicle (CV) production fell by 60.4% last month compared 73.5% in May.
It is believed production has been boosted by the Government's car scrappage scheme - which discounts new vehicles by £2,000 to people scrapping a car or small van more than 10 years old.
Work resuming at Honda's Swindon plant after a four-month closure also played a part in the boost.
Paul Everitt, Society of Motor Manufacturers and Traders chief executive, said: "The UK motor industry is weathering the global recession and beginning the long road to recovery.
"As production volumes and registrations begin to stabilise, Government must help to sustain consumer confidence and encourage banks to deliver the credit industry needs."
Including the June figures, year-to-date car production has hit 410,740 - a 50.2% drop from January-June 2008.
Copyright © Press Association 2009