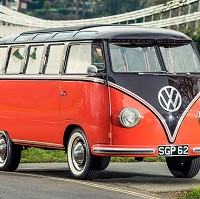 A rare Volkswagen believed to be the only one of its kind in Britain is to be auctioned next month.
The 1955 Volkswagen Type 2 Samba Microbus is thought to be the only surviving model of its type imported into the country. As such it is expected to fetch over £70,000 at the auction, at Stoneleigh Park, Warwickshire on the 21st and 22nd of February.
Sambas were never officially imported in the UK so it is believed this one, with the registration SGP 62 may be the only one left in the country.
Nick Whale, managing director of Silverstone Auctions, describes the vehicles "a piece of Volkswagen history" and said he is expecting it to attract a lot of attention at the forthcoming auction. He said vehicles of this kind are extremely popular amongst collectors around the world.
The bus was found in 1992 having been in storage for 30 years. Over the last 18 months it has gone through an extensive restoration project to bring it back to the original specification whilst adding some safety and convenience modifications.
A certificate of authenticity from the Stiftung Auto Museum Volkswagen comes with the car, as does a personal letter from the son of Mr Colborne-Baber regarding the bus.
Copyright Press Association 2015