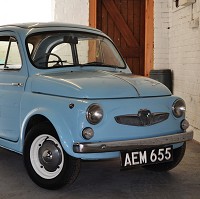 Collectors have the chance to bid on an extremely rare car based on the iconic Fiat 500.
A 1960 Steyr Puch 500 will go under the hammer on September 20 and is expected to fetch somewhere between £15,000 and £18,000.
The model is thought to be one of just 33 right-hand drive versions of its type to be made and one of only two of the vehicles to have survived to this day.
Production of the Puch 500 was stopped in its native Austria as a result of the Second World War.
However, production restarted in 1954 and, in order to dodge the costs of developing a new design, a deal was made with Fiat to produce a vehicle based on its 500 model - with the engine cover, roof, engine, transmission and carriage being manufactured in-house.
Nick Whale from Silverstone Auctions, which is offering the car, says AEM 655 was the first of its kind registered in the UK on October 21 1960 to Ryders of Liverpool. It was the initial UK demonstration car.
He adds that it's an excellent opportunity for international collectors to get hold of a "special model".
Copyright Press Association 2014