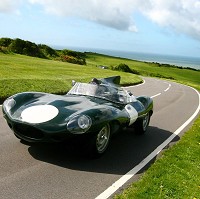 An extremely rare Jaguar is expected to fetch $5 million (£3.25 million) when it comes under the hammer early next year.
The 1956 D-type racer is one of only six built that year, the year that the British manufacturer called time on D-type production.
It was one of the first cars to be fitted with fuel injection. But because the system was so much of an unknown quantity back then, it was not used for the car's first race outing at Silverstone.
Scottish team Ecurie Ecosse acquired the D-type, which it kept until it ceased racing in 1971.
A full restoration took place in 1986, when the racer's original fuel injection system was refitted, before it was sold to an American collector in 1992.
Now after more than a decade of not changing hands, the car is to be sold at RM Sotheby's upcoming auction in Arizona. Auctioneers expect it to attract a wealth of interest from petrol-heads and collectors alike, placing an estimate of $5 million on it.
Ian Kelleher, of RM Sotheby's, describes the D-Type, which was fitted with long-nose bodywork to give it extra stability at high speeds, as perfect. He says it offers a number of untapped historic event participation opportunities for its next owner.
Copyright Press Association 2015