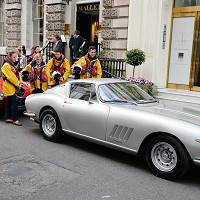 Two extremely rare Ferraris will go under the hammer this week, with all of the proceeds going to charity.
The Royal National Lifeboat Institution (RNLI) is to be the lucky recipient of the money after the late Richard Colton, a pre-eminent British collector of V12-engined Ferraris, left the request in his will.
While there is no official estimate on the 1960 Ferrari 250 GT SWB and 1967 Ferrari 275 GTB/4, two similar vehicles recently sold for a total of £8 million - and auctioneers at H&H Classics reckon the pair could surpass that on Wednesday.
The 250 GT SWB is one of two SWBs which formed part of the launch of the Maranello Concessionaires distribution outlet for Ferrari in the UK.
Only 167 models were ever made, of which a mere 10 originally came to British soil.
Meanwhile, the 275 GTB/4, originally a Maranello Concessionaires demonstrator, is claimed to be the ultimate Enzo-era Ferrari road car. It has a 300bhp engine that is capable of hitting speeds of 160mph.
Just 350 were made, with 27 supplied to the UK market. Petrol-heads widely regard it as the best all-round GT car of the 1960s. The proceeds from the two Ferraris will be used by the RNLI to fund two new lifeboats.
Copyright Press Association 2015