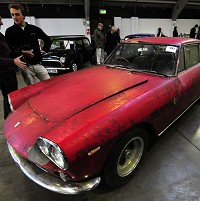 A rare 1965 Ferrari has fetched almost twice the price estimated by auctioneers, selling for £60,000.
The fetching price for the four-seater 330GT 2+2 Berlinetta had been put at £30,000 to £40,000 for sale as a restoration project.
It spent years in a garage and had mouldy fittings, torn seats and rusty wheels with green alga on its red bodywork.
However, once the car is restored to its former glory it could be worth £150,000.
Such an expensive purchase needs protection and may require a relatively high car insurance premium.
The Ferrari, which has 57,000 miles on the clock, was the first designed for family use, with four seats.
The buyers premium on top of the price tag will add around £9,000 to the purchaser's bill.
The model went on sale through Bonhams at Harrogate's Great Yorkshire Showground.
Copyright Press Association 2012