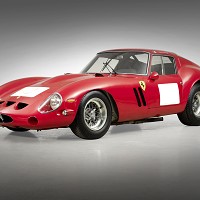 A 1962 Ferrari 250 GTO Berlinetta has been sold for a record £22.84 million at Bonhams Auctions in California.
The rare car, one of just 39 ever built, is widely regarded as one of the greatest Ferraris ever made.
In addition to this the car on sale has a dark history. French Olympic ski champion Henri Oreiller was tragically killed driving the car in question during a race in 1962.
The car was rebuilt at the Ferrari factory and has since been owned by the Violati family, Ferrari and motor racing enthusiasts, for most of its history.
After its extensive repairs Fabrizio Violati and his family continued to race the car until the first decade of the 21st century.
Mr Violati passed away in 2010 and it was decided the car should be sold in one of the first auctions of the famous model for many years.
A large crowd gathered to watch the bidding, applauding when the final bid was confirmed, breaking the former record of £18 million paid for a 1954 Mercedes-Benz W196 R F1 Racer in 2013.
Copyright Press Association 2014