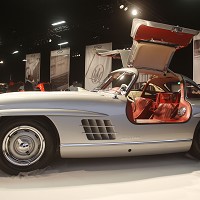 Some of the world's rarest retro cars have been on sale at the Motorworld Classic fair in Berlin.
Around 700 cars were on offer at the event, which took place over the weekend, with some hefty price tags for certain limited and collectable vehicles.
A rare Mercedes-Benz 320 Cabriolet D, produced in 1938, was on the market for Û565,000 (£420,000).
Although that sounds expensive, it was not the priciest car for sale. Motor experts put this vehicle somewhere in the middle of the rare classic car price bracket.
One of the most expensive cars on show was a Mercedes-Benz 300 SL Gullwing CoupŽ from 1955. That would have set an interested buyer back a cool Û1,375,000 (£1,021,000).
Andreas Duenkel, head of the Motorworld Classics fair, says there is no upper limit on what car enthusiasts can expect to pay.
Some classic motors now sell for double-digit millions of euros, he says, although these are limited and very rare vehicles - there are only two or three or five of them in the entire world.
With such high costs, it is unlikely that most of the cars on show will ever be seen on the road.
It was the first time the Motorworld event has been held in Berlin. Duenkel has organised classic car fairs in Stuttgart since 2009.
According to Wolfgang Jochum, head of classical cars sales at Auctionata online auctioning house, the increase in classic car prices is due to growing demand.
He says the classical car market is growing steadily, and many people have extra money that they want to invest in this market.
Because an increasing number of people have excess capital that they want to invest, prices are going up worldwide, he adds.
Copyright Press Association 2015