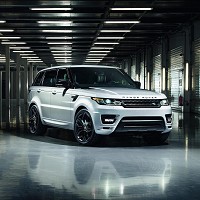 Motorists buying certain versions of the Range Rover Sport will soon be able to finish off their vehicle's look with a new styling package, it has been announced.
Land Rover is set to unveil the new Stealth Pack at the Goodwood Festival of Speed, which gets under way on June 26.
The packs, priced between £1,700 and £2,500, will be available to drivers purchasing the Autobiography Dynamic or HSE Dynamic versions of the Range Rover Sport.
They include a choice of distinctive 22 and 21-inch wheels, a front grille and surround in satin black as well as matching bumper and bonnet vents, tailgate finisher, mirror caps and fog lamp bezels.
Land Rover says motorists will be able to order the Stealth Packs from July with the first ones expected to be available before the end of the year.
Those opting for the 21-inch wheels will have to pay £1,700 for the package while the one featuring 22-inch wheels will be priced at £2,500.
Copyright Press Association 2014