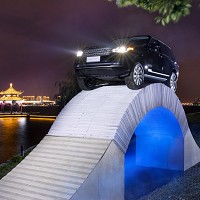 A Range Rover luxury SUV has been driven across a bridge made entirely of paper to mark its 45th anniversary.
The daring drive took place in the city of Suzhou in China, nicknamed the Venice of the East because of its many bridges.
It took three days to make the hand-built paper bridge, which spanned five metres without glue or bolts to hold it in place. British company James Cropper PLC supplied the special high-quality paper.
Land Rover commissioned the unique structure to celebrate 45 years of its Range Rover family.
The manufacturer's chief driving instructor, Chris Zhou, was the man entrusted with negotiating the paper crossing. He had to use a variety of the car's all-terrain technologies to preserve the delicate fabric.
Land Rover also wanted to highlight 45 years of Range Rover innovation ahead of the Guangzhou Motor Show in China.
British artist Steve Messam designed the bridge. While paper structures are capable of supporting people, he claims nothing on this scale has ever been attempted. He says it pushed engineering boundaries to the limit.
Motoring News articles do not reflect the RAC's views unless clearly stated.
Copyright Press Association 2015