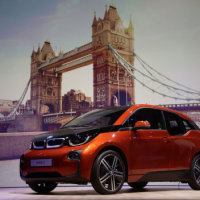 Motorists opting to buy BMW's updated i3 electric car will be able to travel almost 200 miles between charges, the manufacturer claims.
The car's new battery pack has nearly double the capacity of the one used on the original model, giving it a range of 195 miles - the distance by road between London and Leeds.That is more than 50% further than the range of the original i3.
And when used on the i3 Range Extender - a model that uses a two-cylinder petrol engine to charge the battery when needed - BMW says motorists will have a range of 276 miles.
The new battery pack is no bigger than its predecessor as a result of alterations to its membrane material and how its cells are packaged.
Orders for the new i3 are now being taken, with drivers wanting to get their hands on one having to find £27,830 for the basic model, a price that includes the Office for Low Emission Vehicles' £4,500 grant. Prices increase to just under £31,000 for the Range Extender model.
The new i3 can reach 62mph in only 7.3 seconds and comes with a wider choice of colours and interior trims.
Copyright Press Association 2016. Motoring News articles do not reflect the RAC's views unless clearly stated.