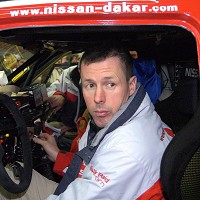 The late former world rally champion Colin McRae will be remembered with an exhibition in Glasgow celebrating his life and achievements.
The famous Subaru Impreza that McRae won his first world rally championship with in 1995 will be the centrepiece of the exhibition at the Riverside Museum, which is being built on the banks of the River Clyde.
McRae, his five-year-old son Johnny, six-year-old Ben Porcelli, and 37-year-old friend Graeme Duncan were all killed in a helicopter crash in 2007.
The Eurocopter Squirrel helicopter crashed 150 yards from the intended landing spot in the grounds of the 39-year-old's home near Lanark in Scotland.
McRae's father Jimmy said: "We hope that the display will inspire a new generation of drivers and also capture a little of the excitement and flair that Colin brought to the sport.
"The popularity Colin had, I think, will bring a few more people through the doors of the museum."
The Subaru is the first of a number of loans from McRae Motorsports to the exhibition which will be regularly updated and changed.
The Riverside Museum is scheduled to open in summer 2011.
Copyright © Press Association 2009