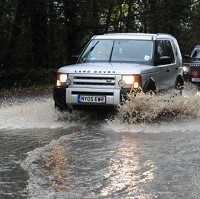 The Met Office has issued a "yellow" weather warning for the weekend, with potential downpours and thunderstorms likely to disrupt the great British getaway for holidaymakers.
As thousands plan to set off on their summer break, weather experts are warning that some regions could experience localised flooding, creating travel disruption.
South East England and East Anglia were the most at risk of torrential downpours moving northwards from France, according to Rachel Vince, a forecaster for MeteoGroup, the weather division of the Press Association. Popular holiday destinations in the South West of the country are also at risk, and drivers setting off on the long trek to Devon and Cornwall are advised to take precautions such as checking theirbreakdown cover .
Ms Vince described the weekend outlook: "On Saturday, pretty much the whole country will have a fine start with spells of sunshine. But, after a pleasant morning, thunderstorms moving in from the Continent will affect south-east England and the Midlands by mid-afternoon. We could see a repeat of the thunder and lightning seen recently. By Sunday, the south-east corner of England is at risk of torrential downpours and localised flooding. The South West is also in that risk of thunderstorms."
Despite the rain, temperatures are expected to remain warm for most of the country, according to Ms Vince, with highs of between 24C (75.2F) to 26C (78.8F) in central and eastern England and between 21C (69.8F) to 23C (73.4F) in western and northern Britain.
Copyright Press Association 2013