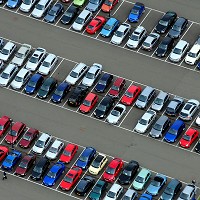 Charges for parking at railway stations have gone up by more than the rate of inflation in many parts of the UK, according to the Transport Salaried Staffs' Association (TSSA).
The union found that in some cases rail firms were increasing charges by as much as five times the rate of inflation.
It revealed an annual car parking ticket at High Wycombe, Buckinghamshire, has increased from £960 to £1,040, while the cost of a weekly ticket at Hitchin, Hertfordshire, has gone up from £31 to £32.
Such rises come just days after train fares rose by an average of 4.2%, considerably higher than the rate of inflation.
It means the cost of travelling by train is becoming increasingly expensive for passengers who, TSSA general secretary Manuel Cortes said, were being treated as "cash cows" by train operators.
He added: "These firms are squeezing passengers until the pips squeak.
"While fares are controlled by ministers, there is a free-for-all on car parking charges. This is daylight robbery at a time of falling living standards."
In response to the hike in charges, the TSSA suggested car parking charges should be regulated in line with fares.
Copyright Press Association 2013