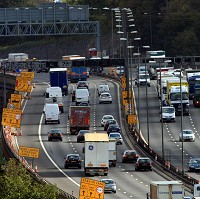 Roadworks are to be suspended for just under a week to ease the impact of a potential national rail strike.
Highways England has announced the plan to mitigate the effects of a 24-hour walkout by members of the Rail, Maritime and Transport union and the Transport Salaried Staffs Association at Network Rail.
It is feared the strike - beginning at 5pm on Bank Holiday Monday - could clog up motorways and other routes as travellers switch from rail to road.
While talks are being held in an attempt to resolve the dispute over pay and avoid a walkout, Highways England has pressed ahead to extend the removal of roadworks in case no agreement is reached.
The plan is to remove or suspend almost 400 miles of roadworks on motorways and A roads nationwide from 6am on Friday 22 May until 6am on Thursday 28 May.
Roadworks are usually reinstated on the Tuesday after a bank holiday break.
Simon Sheldon-Wilson, director of customer operations at Highways England, expects motorists to notice a difference in traffic as early as Friday afternoon.
He is urging travellers to plan their journey before setting out, even if it is a relatively short trip, plus keep an eye on travel updates so they can avoid the most congested stretches of road over the weekend.
The target is to complete or lift 155 sets of roadworks by Friday, leaving 96.9% of 9,534 lane-miles free of roadworks.
Around 267 lane-miles of roadworks will be completed at 105 locations before the bank holiday begins, while 50 sets of roadworks and lane restrictions will be removed across 127 lane-miles of carriageway.
There will also be extra traffic officer patrols and recovery vehicles on standby to assist with breakdowns .
Lane restrictions or temporary speed limits will only remain at 63 locations during the period.
Copyright Press Association 2015