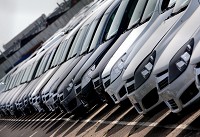 Station car park charges have increased by up to 50% as rail companies seek to offset a small cut in rail fares.
That is the view taken by the Transport Salaried Staffs Association (TSSA), which said Virgin Trains has increased car parking charges by between 25% and 50% along the London to Glasgow route.
The union said an annual parking ticket has risen from £655 to £980. It said the daily rate is increasing from £6 to £8, a 25% rise, and a monthly ticket will cost £98, up from £70 - representing a 25% hike.
The TSSA also revealed that First Great Western, which runs services between London and Bristol, said car park charges have increased by up to 30%.
The group pointed out that an annual ticket at Reading Station will cost £1,644, up from £1,265.
Gerry Doherty, TSSA general secretary, said: "It is outrageous that passengers have to pay huge increases in car parking fees just so the rail companies can offset the tiny 0.4% cut in regulated fares that they will be forced to make in January."
In response, Virgin Trains said the TSSA was ignoring the amount of money spent each year by the company on increasing car parking spaces.
Copyright © Press Association 2009