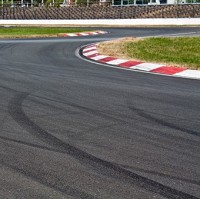 An influential environment body will not be asking ministers to investigate a £280 million motor racing circuit planned for the Welsh valleys.
It is a major boost for the developers of the project, which could have faced a delay of up to a year if Natural Resources Wales (NRW) had decided it was unhappy with the plans.
Supporters claim the Circuit of Wales, based at Rassau, Ebbw Vale, will generate £50 million a year for the Welsh economy and create up to 6,000 jobs.
But it has faced strong objections from environmental groups amid concerns over pollution and damage to wildlife.
Welsh Government officials are currently deciding whether to "call in" the planning consent given to the Circuit of Wales, which is one of UK's largest ever privately-led capital investment programmes in motor sport.
News that NRW has had its fears allayed over the scheme's visual impact will be welcomed by backers of the racetrack and the Heads of the Valleys Development Company, which is behind the project.
Once the circuit is complete it will be capable of hosting all motor racing championships, except Formula One.
Copyright Press Association 2013