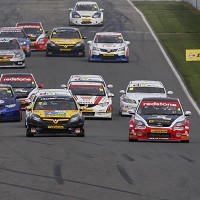 A host of motor racing events could soon take place in south Wales after plans were announced to build a £250 million track in the region.
Scheduled to open by 2015, it is hoped the 3.5-mile Circuit of Wales in Ebbw Vale will stage MotoGP, World Superbikes, World Motocross and Touring Car races.
Proposals by The Heads of the Valleys Development Company also include the construction of an international kart track and motocross tracks.
In addition, the plans include investment in industrial, commercial and leisure developments.
"This is a major private sector-originated regeneration project in partnership with the local authority and the Welsh Government which will create significant job opportunities in a deprived part of the UK," said Michael Carrick, chief executive of The Heads of the Valleys Development Company.
"We believe we have identified an outstanding site in Ebbw Vale, on the boundary of a national park and close to major population centres."
The developers said they expect to submit a planning application to the Blaenau Gwent County Borough Council in late September or early October, with a view to beginning development work early next year.
A race academy is also in the pipeline, aiming to develop the next generation of British and European elite riders and drivers.
Copyright Press Association 2012