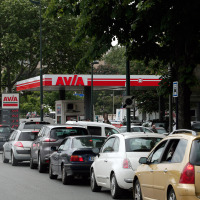 Motorists in or heading to France are to expect delays and fuel rationing procedures over the next few days, the RAC is warning.
In response to the ongoing fuel shortage problems affecting France, the RAC has updated its guidance to travellers - stating clearly that crossing the channel with extra fuel supplies is dangerous and strongly discouraged.
As workers form blockades around oil refineries over labour reforms, the country has starting using its reserve fuel supply to deal with petrol shortages. The General Confederation of Labour (CGT) says striking workers are preventing trucks from being able to load or unload.
But not only will authorities only allow drivers to carry an additional 10 litres of fuel with them upon entering French territory, the safety risks involved with having excess fuel on board speak for themselves.
RELATED CONTENT: The RAC's ctravel checklist for before you drive to Europe
RAC fuel spokesman Simon Williams said: "The RAC is not recommending that motorists take additional fuel in cans when they travel to France for very obvious safety reasons. We would advise that fuel cans are useful for carrying petrol or diesel on short journeys when you have an urgent need but they are not recommended for prolonged journeys and certainly not when your car is going to be in confined space on a ferry or on a train.
"The French authorities only permit motorists to bring 10 litres of additional fuel with them when they enter the country. This is only enough to drive around 70 to 100 miles depending on your vehicle's fuel economy and therefore may not be that helpful for holidaymakers who are driving long distances.
"The French Government is committed to finding a swift resolution to the fuel issue. Even though fuel stations do have supplies of petrol and diesel, motorists should expect delays and rationing in the next few days."