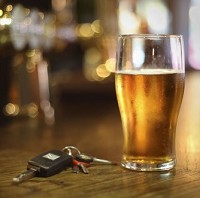 The RAC has called for a uniform drink-drive limit across Britain in the wake of new figures linking over 200 road deaths to motorists being over the legal ceiling.
The Department for Transport (DfT) reports that between 220 to 260 road users died in such UK accidents during 2013.
David Bizley, chief engineer of the RAC, says a standard UK-wide limit would help clarify the law for every British motorist, including younger ones who are still most likely to offend.
Mr Bizley said: "While it is encouraging that the numbers of people killed or seriously injured as a result of accidents involving young drink drivers has fallen since 2002, the sad and all-too-familiar fact is that younger drivers still account for a disproportionate number of all drink-drive casualties.
"A harmonised drink-drive limit across the whole UK would help make the law clearer for all motorists, and is something motorists we want to see, but what these figures highlight is the need for a concerted, focused effort on encouraging and incentivising younger motorists to recognise the dangers of driving under the influence.
"The coalition Government shelved plans for a green paper on reducing risks to young drivers, but the need to find solutions is as pressing as ever.
"Education, new technologies such as telematics and graduated licensing potentially all have roles to play.
"Government, and indeed all of those who share an interest in reducing casualties on our roads, need to use all means at their disposal to address the problem now."
The drink-drive law in Scotland changed on December 5 last year to mirror ones on the Continent.
On the same day the majority of UK motorists polled said they wanted policymakers to apply the new Scottish limits everywhere in Britain .
A lot of variables surround the latest DfT statistics. But the Department says the amount of deaths should be roughly judged as being unchanged since the start of the decade.
The Government reports that about one in seven road deaths (14%) in 2013 involved one motorist or more who was over the limit. Early provisional estimates involving 2014 crashes suggest there have been somewhere from 240 to 340 fatalities in drink-drive incidents.
Back to last year, and most people who were seriously hurt or killed in drink-drive incidents were vehicle drivers exceeding the legal drink-drive limit (40%). Then followed car passengers, motorbikers and under-the-limit vehicle drivers at 25%, 14% and 9% respectively.
Nearly three-quarters (74%) of the people seriously hurt or killed in drink-drive accidents were male.
The amount of severely hurt people in drink-drive incidents fell to 1,100 over 2013 from 1,200 a year earlier.
Copyright Press Association 2015
https://www.gov.uk/government/organisations/department-for-transport (Department for Transport)