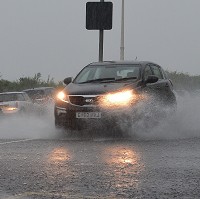 The RAC is warning drivers to take extra care on the roads as heavy rain continues to lash parts of the UK.
More than a month's rain fell in just a few hours on Thursday, causing flooding to parts of Sussex and Kent, and the unsettled weather is continuing in northern England, southern Scotland, Wales and the West Midlands.
RAC spokesman Pete Williams said: "With a deluge of rain and thunderstorms descending on southern and central England and Wales, the RAC is urging drivers to expect the worst and prepare for challenging conditions on the roads. Drivers are likely to get a taste of some tough driving conditions over the next few hours with the forecast of torrential rain."
Some parts of the South East, especially towards Kent, saw up to 40mm of rain in one hour on Thursday, and a total of 70mm fell across parts of Sussex and Kent.
According to the Met Office, the average monthly rainfall for Kent is about 50mm, so more than a month's rainfall fell in a few hours.
The RAC says drivers should be on their guard and ensure their car is in a roadworthy condition before heading out.
"Exercising care and caution is vital in heavy rain conditions, especially as traffic volumes are particularly high at the moment," Mr Williams continued.
"Cut your speed, use dipped headlights and avoid driving through deep water if you encounter flood conditions, and remember to show consideration for other road users, particularly cyclists and pedestrians. Also be prepared to pull over and wait for the worst conditions to subside if you are hit by a heavy storm.
"It could be wise to delay your journey until conditions improve and listen out for the latest weather and traffic news on the radio.
"We always advise drivers to keep a close check on their vehicle basics to help avoid a breakdown particularly in adverse weather. We suggest you use the 'FORCE' to ensure your vehicle is in the best condition by checking your: fuel, oil, rubber - that is your tyre tread and pressure and those all-important windscreen wipers - coolant level and electrics so all your lights are working."
The good news is that the weekend is expected to be more settled for the majority of the country, albeit a little cooler.
The Met Office says there may be a few showers, mainly towards the north and west, but a lot of dry, bright weather is forecast.
Copyright Press Association 2015