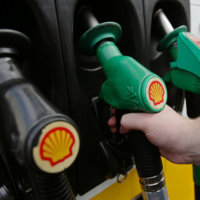 Drivers may not have to fear as steep a rise in fuel prices as some are predicting if Britain leaves the EU, the RAC claims.
Some experts say that such a move would see the pound fall 20% against the US dollar.
But the motoring organisation says this would only put £2 on a typical tank fill-up.
The RAC is maintaining a neutral stance on the question of Britain's EU membership.
But Simon Williams, fuel spokesman for the RAC, says: "The impact on fuel prices of Britain exiting the Euro is not likely to be as dramatic as motorists might be led to think.
"A 20% fall in the value of the pound would - based on current exchange rates - only add £2 to the cost of filling up an average 55-litre petrol car, as a result of the average price of a litre rising around 4p from 101.95p to 105.56p.
"This would mean a two-car household filling up with petrol twice a month would spend £232 as opposed to £224."
Drivers can keep abreast of the latest fuel prices through RAC Fuel Watch .
Meanwhile, Mr Williams says that the pound's strength can be over-estimated when it comes to prices at the forecourt pumps.
This is because oil prices have more impact as wholesale fuel gets traded in US dollars.
Mr Williams says that it is a hard task trying to gainsay the future of oil prices, but expects nothing to change radically in the near future.
He says it is likely that fuel prices will stay roughly the same until at least the end of June.
Mr Williams added: "And, even after that, if the barrel price was to go above 60 dollars (£41.90) it would signal a major move away from OPEC's strategy to maintain market share through a lower price and make it financially unattractive for the United States to produce oil from fracking."
Copyright Press Association 2016. Motoring News articles do not reflect the RAC's views unless clearly stated.