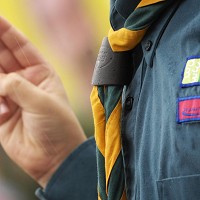 A new three-year safety campaign has been launched by the RAC and the Scout Association aimed at helping to reduce the number of child deaths on Britain's roads.
Over the next three years, patrols from the motoring organisation will visit Scout groups up and down the country in a bid to promote road safety.
The joint initiative will also see the RAC sponsoring the Cub Scouts' road safety activity badge, while the new Road Safety Awareness charity will work to raise funds for the project.
Figures show a rise in the number of child fatalities and serious injuries on Britain's roads, though the numbers have been decreasing for nearly 30 years.
Tragically, the number of children killed on UK roads rose by 10% to 53 in 2014 compared to the previous year. The number of children seriously injured increased by 5% to 2,029 in 2014.
Central to the new campaign is a new mascot called Horace, a cartoon dog launched by the RAC just over a year ago to promote road safety.
The mascot will "attend" workshops, helping with lessons on how to be seen now that the clocks have gone back. Ways to keep "road smart", in-car safety and the Highway Code will also be taught through interactive and traditional teaching tools.
The RAC hopes to supply every Cub Scout with special high-visibility vests over the next three years.
Jacqui Thompson, road safety champion for the RAC, said: "This is a fantastic opportunity to engage and work with young people across the UK to raise awareness of road safety and to equip them with the skills to be road smart and develop as responsible and safe road users.
"Together with The Scout Association and the Department for Transport's THINK! Campaign, we can reach drivers and other road users too with responsible and safe driving messages - and bring the number of children killed on UK roads to zero."
Copyright Press Association 2015