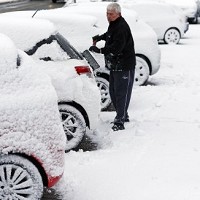 The RAC has issued advice for drivers as wintry weather begins to take a grip on Britain's roads.
The country is forecast to suffer the first widespread cold snap of the season, with some parts expected to hit four-year temperature lows at the weekend.
The driving organisation says that breakdowns are not an inevitable consequence of freezing temperatures and recommends a special in-car winter survival kit.
Drivers have been warned of testing motoring conditions and possible traffic disruption.
Weather forecasters say that drivers planning on heading to higher parts of Scotland can expect temperatures to plummet as low as -15C.
Such cold conditions have not been experienced in Britain since 2012 when the Lincolnshire town of Holbeach suffered temperatures of -15.6C.
On Wednesday night (January 13) residents in some areas of northern England and Scotland's Borders braced themselves for 10cm of snow in hilly regions.
Police reported many road incidents in north-east Scotland on Wednesday and urged motorists to drive carefully in the days ahead.
Thursday (January 14) also saw the threat of snow on higher parts of Birmingham and Lincolnshire.
RAC spokesman Simon Williams said: "In bad weather motorists can very easily find themselves stranded because of the sudden changes so it is vital they take every precaution when setting out on any journey.
"Checking the local weather regularly and making sure you have the right kit in the car - waterproof coat, blankets, boots and a fully charged mobile phone - is essential.
"Some breakdowns are avoidable through maintenance and preparation, so taking extra caution such as leaving more distance between you and the car in front is advisable.
"Even with well-prepared vehicles, if the weather looks like it's going to get worse, try to make a sensible decision about how necessary it is you drive in the first place."
Copyright Press Association 2016. Motoring News articles do not reflect the RAC's views unless clearly stated.