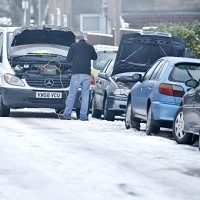 The RAC has issued a five-point plan to help prevent motorists from being victims of breakdowns.
Statistically, drivers have more chance of breaking down today, the first Monday after the Christmas holiday, than at any other time of year - especially if it starts to snow.
The RAC wants motorists to avoid becoming one of the more than 10,000 people who suffer car troubles on "Manic Monday" by following its advice on how to prevent their batteries from becoming flat.
Last year RAC patrol crews handled 10,388 breakdowns on January 5, over one in four of these being related to flat batteries.
The motoring organisation recommends that drivers park their car in their garage when they can.
Motorists should turn everything off - from heaters and lights to any iPods and sat-navs - to save every volt.
It is also recommended that battery links are checked to ensure that there is no corrosion or tightness.
Following the long festive break, the RAC advises that motorists should try to take their car out for a short drive to get it ticking over again.
In addition, a ny batteries dating back to before 2012 should be tested.
Brian Wilson, RAC's patrol of the year, said: "Despite the unseasonably mild weather, our patrols are still gearing up for what is normally the busiest breakdown day of the year as millions begrudgingly head back to work on Monday (January 4), having enjoyed an extended festive break only to find their car is not up to the task.
"But it really doesn't have to be that way. All people need to do is make sure they take their cars for a good run.
"That way they will revive the battery or have time to sort the problem out. Experience tells us that it is often families with two or more vehicles that tend to suffer most from the 'Manic Monday' flat battery problem.
"On the first working day of 2015 the vast majority of breakdowns we attended were for vehicles that wouldn't start, with one in four being battery-related.
"The combination of a long break where vehicles aren't used much and damp weather is a recipe for the battery blues.
"A vehicle's electrical system has to work a lot harder at this time of year as drivers are more likely to use their lights and heated windows.
"The starter motor also has to work harder to start the engine on these cooler mornings, making a battery failure more likely."
Mr Wilson adds: "It's also a good idea to top up with fuel a day or two before you have to go back to work so you avoid the queues at filling stations.
"If it's a few miles away this will also give your battery a little bit of a boost too.
"And even if you have a full tank the best advice is to go for a drive a day or so before you need to go back to work after the holiday, especially if you don't have a battery charger yourself.
"However, don't just start the vehicle and then switch it off because that may do more harm than good."
Drivers can get a replacement battery by visiting the RAC's online shop or by ringing 0330 332 8351.
Copyright Press Association 2016. Motoring News articles do not reflect the RAC's views unless clearly stated.