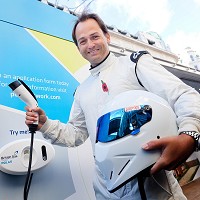 Environment-concious celebrities have shown their support for electric and hybrid cars at the RAC Future Car Challenge.
The aim of the contest was to find the cars which expend the least amount of energy to travel the 63 miles from Brighton to London. British Gas entered with six cars driven by high-profile celebrities who appreciated the advances in ecological technology.
Among them was Ben Collins, the stunt driver in James Bond's car chases and sequences in Skyfall and Quantum of Solace, who drove a Nissan Leaf on the eco course.
Collins said: "Over the years I've driven practically every car on the planet. The pace of change in technology has been phenomenal, especially for electric and hybrid cars where fuel efficiency is finally being matched by performance.
"That's how Audi won the Le Mans 24 hours this year and how I hauled an electric-powered supercar like the Tesla around the Top Gear track as fast as a Ferrari."
Collins said the RAC Future Car Challenge is a chance to show off just how far electric vehicles have come and how easy and affordable they are to drive.
He said he appreciated being a part of the British Gas entry as the company will make electric vehicles a reality by building the charging infrastructure.
Copyright Press Association 2012